ONGC Board of directors
Board of Directors
The Company is managed by the Board of Directors, which formulates strategies, policies and reviews its performance periodically. The Chairman & Managing Director (CMD) and Six Whole-Time Directors viz. Director (Onshore), Director (Technology & Field Services), Director (Finance), Director (Offshore), Director (Exploration) and Director (Human Resource), manage the business of the Company under the overall supervision, control and guidance of the Board.
Shashi Shanker
Chairman & Managing Director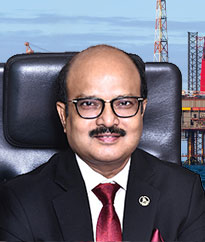 Mr Shashi Shanker has taken over charge as ONGC CMD from 1 October 2017, taking over the reins of ONGC from Mr Dinesh K Sarraf, who superannuated from service on 30.09.2017.
Shashi Shanker
Mr Shanker is an industry veteran with over 30 years of experience in diverse E&P activities. He is a Petroleum Engineer from Indian School of Mines (ISM), Dhanbad. He also holds an MBA degree with specialisation in Finance. He has also received executive education from prestigious Indian Institute of Management, Lucknow and Indian School of Business, Hyderabad.
Prior to his appointment as Director (T&FS) in 2012, he has progressed through senior management roles in various work-centers including Institute of Drilling Technology, Dehradun; West Bengal Project; Assam Project and Deep Water group at Mumbai. He was acclaimed for his performance in spearheading the deep/ultra-deep water campaign of ONGC which was christened 'Sagar Samriddhhi'.
Under his leadership, ONGC drilled the deepest deep-water well covering a water depth of 3174m, a world record. He also led the team to one of the finest Drilling performance in FY'17 when ONGC set a new record of drilling over 500 wells in 2016-17. This is the first time in 23 years that ONGC has crossed the 500-well mark.
Under his guidance, the Company has led the delivery of cutting-edge IT solutions that drive growth, streamline performance and promote efficiency. He has provided much needed support for effective use of ERP and SCADA platform for real time information. During his tenure, ONGC has conceptualized an ambitious companywide project called "DISHA" for creation of a paperless office platform, the implementation of which is now underway.
Shri Shanker is also the Director (In-charge) for ONGC Tripura Power Company (OTPC) and North East Transmission Company Ltd (NETC) besides being on the Board of ONGC Videsh. He is also the Director (In-charge) and Member of the High Powered Steering Committee for Government's flagship initiative 'Make-in-India'. His vision and dynamic attributes have helped in making numerous operational and policy initiatives and steering the company through many milestones.

Subhash Kumar
Subhash KumarDirector (Finance)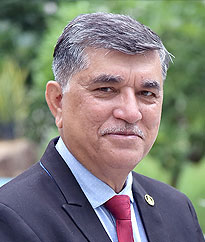 Mr Subhash Kumar has taken charge as Director (Finance), ONGC on 31 January 2018. Mr Kumar was recommended to the position by Public Enterprise Selection Board (PESB) on 26 October 2017 and has been appointed to the post by the President of India.
Prior to joining as Director (Finance), ONGC, Mr Kumar served a brief stint with Petronet LNG Limited where he joined as Director (Finance) in August 2017.
Mr Kumar is Fellow Member of ICMAI and also Associate Member of ICSI. He is an alumni of Panjab University, Chandigarh, where he obtained his Bachelors degree and Masters degree in Commerce with Gold Medal.
Mr Kumar joined ONGC in 1985 as Finance & Accounts Officer (F&AO). After initially working in Jammu and Dehradun, he had a long stint at ONGC Videsh, the overseas arm of ONGC. During his tenure with ONGC Videsh, Mr Kumar was associated with key acquisitions and expansion of company's footprint from single asset company in 2001 into a company with global presence in 17 countries with 37 assets. He played a key role in evaluation and acquisition of many Assets abroad by ONGC Videsh.
He worked as Head Business Development, Finance & Budget and also as Head Treasury Planning & Portfolio Management Group at ONGC Videsh from April 2010 to March 2015. He then went on to serve as Chief Financial Officer of Mansarovar Energy Colombia Limited, a 50:50 joint venture of ONGC Videsh and Sinopec of China, from September 2006 to March 2010.
Mr Kumar joined back ONGC as Chief Commercial & Head Treasury of ONGC in July, 2016 where he played a key role in evaluation, negotiation, and concluding outstanding issues pertaining to the organization.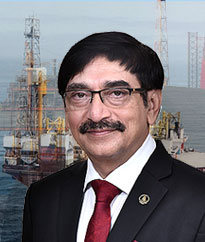 Rajesh Kakkar
Director (Offshore)

Mr Rajesh Kakkar has taken over charge of Director (Offshore) of Oil and Natural Gas Corporation (ONGC) on 19 February 2018. As Director (Offshore), he will look after oil and gas production from ONGC's offshore fields that contribute 70% and 78% of ONGC's domestic crude oil and gas production respectively.
Mr Kakkar has more than three and a half decades of experience in the various aspects of operations and management in both offshore and onshore fields. He played a key role in reversing the production trend at Western Offshore in 2015. He has been pioneer of "field-life-cycle maximization" to enhance production from the ageing fields. Through many brownfield as well as marginal field development, he has ensured incremental production of oil and gas.
He has held key positions in various high-level committees and task forces concerning oil & gas development projects and played a pivotal role in ensuring health safety and environment as far as the offshore operations are concerned.
Mr Kakkar is also well-known for his people management and interpersonal skills to foster team approach to the operations. He holds a Bachelors degree in Mechanical Engineering with Honors from Ravi Shankar University, Raipur. He completed Global Managers' program at IIM, Kolkata and Leadership Development Program at IIM, Bangaluru. He was recognized as the "Young Executive of the Year" in 1991 and also received Chairman's award in 1992 for "Consistent Performance in Offshore Production Operations".
Dr Alka Mittal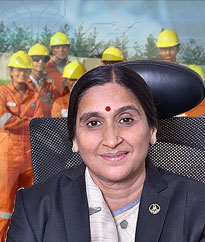 Director (HR)
Dr Alka Mittal has joined as Director (HR) of Oil and Natural Gas Corporation Limited on 27.11.2018. Dr Alka Mittal is a post graduate in Economics, MBA (HRM) and Doctorate in Commerce and Business Studies, she joined ONGC as a Graduate Trainee in 1985 and brings with her an extremely rich experience spanning over three decades.
Dr Mittal is the first woman to hold the charge of a full-time Director in ONGC's history. She is also on the board of ONGC Mangalore Petrochemicals Limited (OMPL) as ONGC nominee Director since August 2015.
Prior to joining as Director (HR), Dr Mittal held the post of Chief Skill Development (CSD) of the Company. In her capacity as CSD she streamlined the activities and brought in uniformity in the working of the Skill Development Centres of ONGC. During this period, she has also implemented the National Apprenticeship Promotion Scheme (NAPS) in ONGC engaging more than 5000 apprentices across all work centres.
Previously she worked as Head CSR at Corporate Office and took up major CSR projects across India.
Earlier, she has led the HR-ER functions in various capacities across regions including Vadodara, Mumbai, Delhi and Jorhat, and was also the Head of Corporate Communications of ONGC during 2009.
She has a special penchant for training and mentoring, and has trained more than 11000 GTs of ONGC since 2001 on "Corporate Governance" as part of their induction program.
As a senior HR specialist, Dr Alka Mittal has made rich contributions in various professional forums and bodies. She is an Executive Committee member of NIPM (National Institute of Personnel Management), and was President of Forum for Women in Public Sector (WIPs) Northern Region till recently and heads the Women Development Forum of ONGC.
Dr Mittal has always strived to foster the philosophy of equal opportunity employer and has contributed towards creating an inclusive workplace ecosystem in ONGC.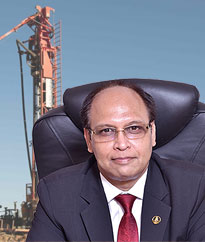 Rajesh Kumar Srivastava
Director (Exploration)
Mr. Rajesh Kumar Srivastava assume the charges as Director (Exploration) of the Company on 02.08.2019. Mr. Srivastava acquired Master of Science(Geology) from Lucknow University and Master's Degree in Engineering Geology from Indian Institute of Technology, Kanpur. Mr Srivastava joined ONGC as Geologist in 1984 at Krishna Godavari Basin, Rajahmundry.
With over 35 years of experience, Mr Srivastava is an expert in up-stream hydrocarbon exploration from well site operations, development geology, seismic data interpretation to monitoring and planning of exploration.
Mr Srivastava began his career as an Exploration Geologist from geologically complex KG-PG Basin. At Institute of Reservoir Studies, Ahmedabad he was considered as one of the best hands in the trade of Reservoir Modelling for preparation of field development plans, simulation studies for production forecasts and techno-economic evaluation of prospects. He is credited to have introduced art/science of Geocellular Modeling in ONGC, Neelam being the first full field fine scale Geocellular Model for dynamic modelling for redevelopment.
During his tenure at Exploration and Drilling Directorate, he was closely associated with the exploration and development activities of Assam & Assam-Arakan Basin, MBA Basin and Krishna-Godavari Basin and Cauvery Basin.
He played a key role in the formulation of 'Hydrocarbon vision-2030 for North East India' driven by Ministry of Petroleum and Natural Gas. He has also evaluated several exploration and development blocks of Egypt & Sudan. As an acknowledgement for his contributions towards field development and hydrocarbon exploration, Mr Srivastava was honored with the National Mineral Award in year 2009.
Om Prakash Singh
Director (T&FS)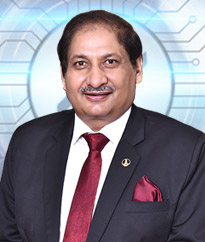 Mr Om Prakash Singh has taken over charge as Director (T&FS) on 1 April 2020. A Mechanical Engineer with more than 32 years of experience, Mr Singh has built a deep industry understanding and proven management experience across the technical and commercial roles he undertook during his career.
Mr Singh has a distinguished track record as a drilling engineer and has demonstrated dynamic leadership and vision, as he progressed through various roles within the company. He is well-versed with national and international Exploration & Production business and carries an extensive experience of offshore and onshore operations.
He has a vast industry knowledge and global business experience. He has played major roles in handling the challenging deepwater drilling project in India and overseas projects in Vietnam, Iran, Qatar and Brazil.
Mr Singh's tenure as Head Nhava Supply Base has been very impressive. In challenging conditions, he exhibited a leading role with enthusiasm, clarity and discipline; thereby transforming the performance of the Nhava Supply Base.
With a focus on performance metrics and a continual drive for excellence, Mr Singh spearheaded Tripura Asset as the Asset Manager. During his tenure, the Asset made significant improvements – as he was instrumental in a number of initiatives and enhanced the overall performance of the Asset by fast-tracking projects and synergizing resource mobilization and its utilization.
Mr O P Singh has an open-minded and forward-looking approach, with firm belief in team-work.
Anurag Sharma
Director (Onshore)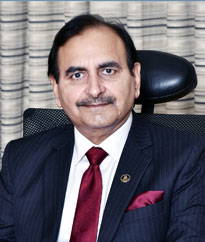 Mr Anurag Sharma has taken over charge as Director (Onshore) of Oil and Natural Gas Corporation (ONGC) on 1 June 2020, after the superannuation of Mr S K Moitra on 31 May 2020.
As Director (Onshore), Mr Anurag Sharma will provide stewardship to oil and gas production from ONGC's onshore fields.
A Mechanical Engineer (MNREC, Allahabad) and MBA (FMS, Delhi), Mr Anurag Sharma joined ONGC in 1984. Since joining he has held various positions in ONGC and ONGC Videsh in Asset Management, Operations and Services.
Mr Anurag Sharma has a rich experience of overseas operations leading OVL's Vietnam projects, MD RIG Russia, besides contributing in Business Development activities in CIS and SE Asia.
He also served as the EO to Director (T&FS) and led the flagship initiatives as Head - Indeg viz. Make in India and Startup India and prestigious Solar Chulha project which was taken up on clarion call given to ONGC by Prime Minster of India.
He worked at various levels in management of drilling operations in Ankleswar, Jorhat and Cauvery Projects.
As Asset Manager of Cauvery Asset, he led the team to highest ever oil production in last two decades. The asset achieved its oil production target and maintained its operations, in spite of the prevailing environmental conditions.
Mr Sharma has a strong track record for delivery of the projects with his excellent project execution skills. He believes in Safe work practices and is well-known for his interpersonal skills.
He has undertaken executive education from the prestigious Indian Institute of Management, Calcutta. He is also a member of Society of Petroleum Engineers. He is the proud recipient of the Manager of the year award.
Rajesh Aggarwal
Additional Secretary & Financial Advisor – MoP&NG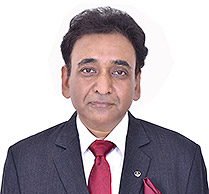 Mr. Rajesh Aggarwal belongs to 1989 batch (MH cadre) of Indian Administrative Services. Presently, he is the Additional Secretary and Financial Adviser, Ministry of Petroleum & Natural Gas and Ministry of Corporate Affairs, Government of India.
He graduated from Indian Institute of Technology, Delhi as a Bachelor of Technology in Computer Science & Engineering. He worked in Central Government as Joint Secretary, Department of Financial Services and Director, Jan Dhan Mission in Tribal Affairs and Skill Development & Entrepreneurship, and earlier as Director in Election Commission of India. In State Government of Maharashtra, he has worked under various capacities including as its IT Secretary.
He served on the Boards of Punjab National Bank, IFCI Ltd and Centre for Development of Advanced Computing. He was also nominated as the Chairman & Managing Director of National Insurance Company Ltd. Presently, he serves on the Boards of Bharat Petroleum Corporation Ltd and Indian Strategic Petroleum Reserves Limited as a Director.
Amar Nath
Joint Secretary (Exploration)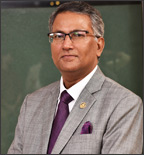 Mr. Amar Nath, Joint Secretary (Exploration) Ministry of Petroleum & Natural Gas is the Govt. nominee Director and joined the board on 28 June 2016.
Mr. Amar Nath, an IAS Officer (1994 AGMUT Cadre) is a Bachelor of Science (Mechanical Engineering) from National Institute of Technology, Kurukshetra, Kurukshetra University and MA (International Development Policy) from Duke University, USA. Shri Amar Nath was Secretary to the Department of Health, Government of National Capital Territory of Delhi prior to the present assignment. He has held the positions of Administrator of Union Territory of Lakshadweep, Chief Executive Officer of Delhi Urban Shelter Improvement Board, and Chief Executive Officer of Chandigarh Housing Board in Chandigarh.
He has extensive experience of working in various Departments of Government at senior management positions such as Finance, Economic Planning, Tourism and Industrial Development in the states of Arunachal Pradesh, Pondicherry, Chandigarh and Delhi. Before joining IAS in 1994 he worked with State Bank of India and Steel Authority of India.

Amitava Bhattacharyya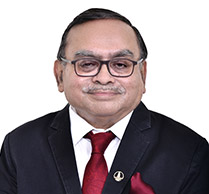 Former Central Information Commissioner
Shri Amitava Bhattacharyya is appointed as an Independent Director on the Board of ONGC w.e.f. 19.07.2019.He was Central Information Commissioner during 2016-18 before he retired from the civil services as the Chairman, Staff Selection Commission, Government of India on 31.12.2015.
Shri Bhattacharyya acquired his graduation in physics from Presidency College, Kolkata and post-graduation from University of Delhi. Later, he served in National Physical Laboratory-CSIR, before joining the Indian Administrative Service in 1980. Subsequently, he did a course in Human Resource and Public Administration from Maxwell School of Citizenship, Syracuse, USA.
He served for Government of Gujarat in various capacities both in the field as well as in the Secretariat. Later, he served for about two years in the UPSC as Secretary.
During his service, Shri Bhattacharya was In-charge of Internal Finance Division of Ministry of Labour, Government of India and was acting as Chief Finance Officer & Financial Advisor of Employees Provident Fund (EPF). He was also on the Board of Employees' State Insurance Corporation (ESIC).
In early 90's he worked under the then Ministry of Environment & Forest, Government of India and was involved in several important issues of cross country dimensions, including Global Warming, Biodiversity Protection, Ozone Depletion. He was also the Mission Director for Water Conservation and Sanitation from 2006 to 2009.
Shri Bhattacharya is associated with an NGO on a voluntary basis and working in the area of anti-trafficking of women and children in India and other south-east Asian countries.
.