4. Welfare Schemes of Retired Employees Association
This is also a crucial topic. Naturally retired employees should have the context with our senior members of the Association for having some help while they are in critical problem, it may be a general or official.
Annual Subscription:  It was decided that onetime payment of Rs. 1000/- may take effect from 1st January 2010.
Pensions: Various pension schemes prevalent in ONGC were discussed. However, the consensus of the opinion was to wait for the decision of the High court of Mumbai.
Reward to Senior Ex. Executives of the Association who are above 80 years in age: Shri Shiv Dayal was entrusted with the work of ascertaining the names so that their cases can be considered in recognition of their services, for suitably honoring them.
Registration of Association under Society's Act: Shri Rekhi was asked to initiate action for registration of Association under Society's Act.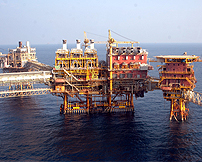 Nature is highly merciful for human being to the extent, that below sea is also having a fruitful earth which is also flowing all along the area, intelligent exploration people would try to recover the area of hydrocarbon which is useful for our basic needs for progressing the needs of our country.